Laminitis in horses
What causes laminitis, how to recognise it and what to do if your horse shows signs of laminitis.
What causes laminitis, how to recognise it and what to do if your horse shows signs of laminitis.
What is laminitis?
Laminitis is an extremely painful condition of the feet in which there is inflammation and weakening of the sensitive tissues (laminae) that bond the pedal bone (the main bone within the hoof) to the hoof wall and it can affect any horse, pony, donkey or their hybrids.
The weight of the horse pushing down on these weakened tissues can cause the pedal bone to separate from the hoof wall and rotate or drop towards the sole. In severe cases the pedal bone may penetrate through the sole of the foot. It is an emergency and you must contact your vet immediately if you think your horse might be suffering from laminitis.
Prevention of laminitis is essential whenever possible as once a horse has suffered from it, they are at increased risk of developing it again.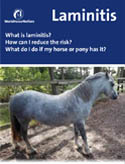 Download our free laminitis leaflet
Download our leaflet to find out more about what laminitis is, how to prevent it and what to do if you suspect your horse has it.
In 2010 World Horse Welfare, alongside Dodson & Horrell, the Royal Veterinary College, the Royal (Dick) School of Veterinary Studies and the University of Liverpool held a series of lectures on the dangers of laminitis.
You can view some of these lectures in the playlist above. The topics covered in these videos are the horse's foot and how it goes wrong; recognising the early signs of laminitis; managing your laminitic and minimising his pain; using ultrasound to show the difference between fat and muscle and how to fat score a horse.
Not sure how to check your horse's digital pulse? Watch our video to learn how.
Remember you can always call our Advice Line on +44 (0)1953 497 238.
You might also like to read our blog by Sam Chubbock, Head of UK Support, explaining what laminitis is, what causes it and how it's treated.